Ice Cream Fest Entertainment Schedule
let's celebrate
Looking for something to do on Friday, August 18th from 5 to 9pm? Join us at Ice Cream Fest for a fun-filled day of activities, games, and of course, ice cream. Thanks to the many community partners who helped us sponsor this event. With your ticket sales and sponsor donations, we are able to make this event fun for everyone!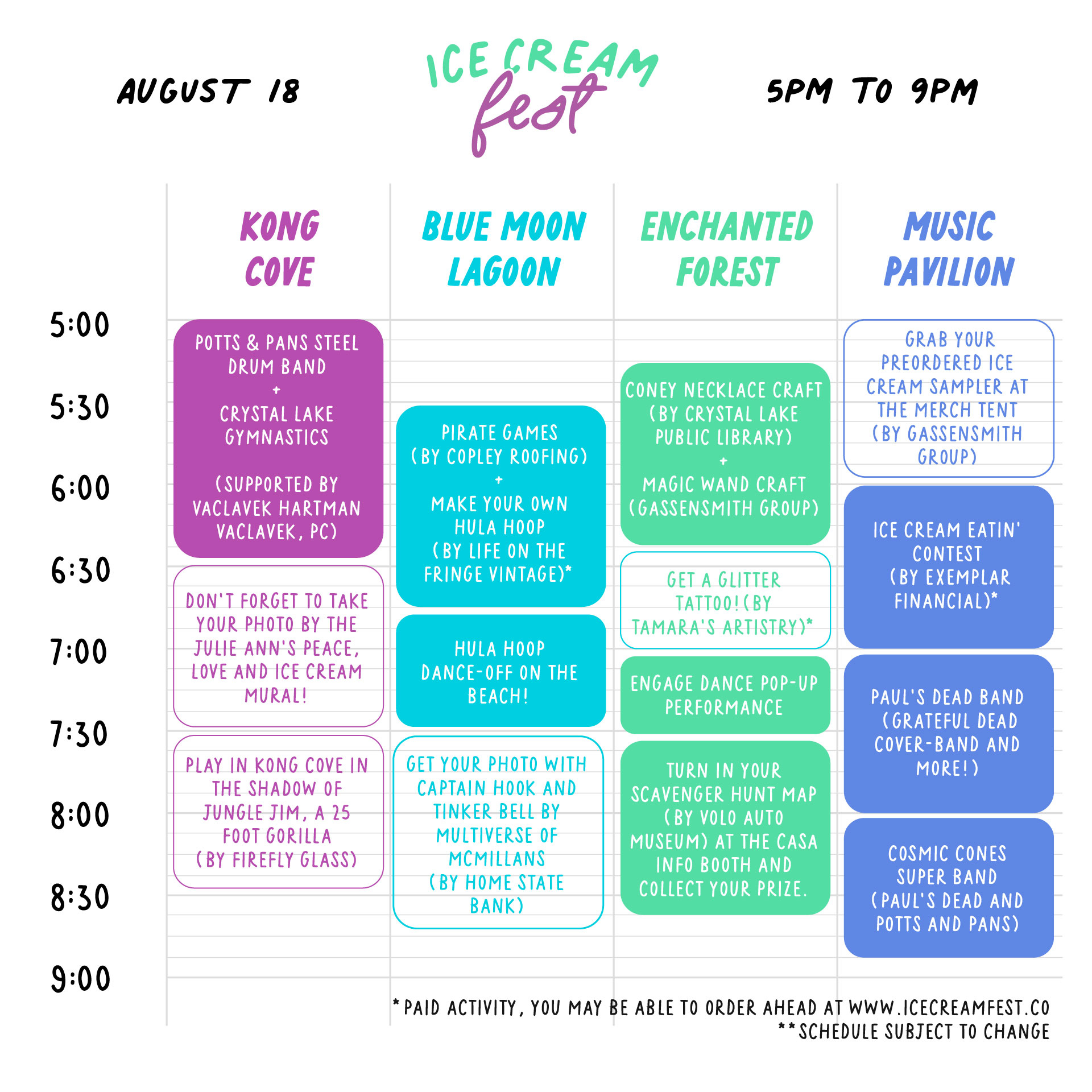 Looking for something to do on Friday, August 18th from 5 to 9pm? Join us at Ice Cream Fest for a fun-filled day of activities, games, and of course, ice cream!
Potts and Pans – Guests will be greeted with a bang, and as you enter the festival gates you will groove to the beat of the Pots and Pans Steel Drums! Their Caribbean rhythms are sure to get you in the mood for fun in the sun. Thanks to Vaclavek Hartman Vaclavek, PC  for sponsoring the Kong Cove performance.
Scavenger Hunt – Stop by the CASA of McHenry County Info booth and grab a Scavenger Hunt Map. Make your way through out the three lands that make up Ice Cream Fest looking for 'Wormy' our curious gummy worm friend. Discover all the games, activities, sweet treats, and more by completing the fun hunt! Thanks to our friends at the Volo Museum for sponsoring the Scavenger Hunt and providing prizes to those who participate.
Hula Hoop Contest – Show off your skills and compete with friends in our hula hoop contest at the beach. Whether you're a hula hoop pro or a beginner, this is a great chance to have some fun and win some prizes! Get in, get your first treat for a boost of energy, and find your way to the beach lagoon. Contest for all ages, and custom handmade Hula Hoops can be decorated at Ice Cream Fest. Add a small or large Make-Your-Own-Hoop when you buy Ice Cream Fest Tickets. The groovy folks at Life on the Fringe Vintage will help you create your own Hoop!
Fun at Kong Cove – Get ready to burn up some calories near Jungle Jim and dance to the beat at Kong Cove! Be amazed by the gymnasts from Crystal Lake Gymnastics who will be flipping and flying!
Magic Wand Craft – Craft by The Gassensmith Group in the Enchanted Forest near the Sampler Tent. All you need is a little bit of pixie dust…
Custard Craft – Craft by the Crystal Lake Public Library in the Enchanted Forest: Join us in the Enchanted Forest for a cone craft activity with the Crystal Lake Public Library. Make your own Ice Cream Craft and let your imagination run wild!
Pirate Games – Ahoy! If the pirate life if the life for you, enjoy the pirate games and activities in the Blue Lagoon. A special thanks to Charles Copley Roofing for sponsoring Blue Moon Lagoon.
Glitter Tattoos and Photo Ops – Stop by the Glitter Tattoo Station ($5 a tattoo) in the Enchanted Forest. Take a photo with Captain Hook and Tinker Bell. Sparkle, shine and smile! Thanks to Home State Bank for sponsoring the character appearances! Stop by the 'Peace, Love, and Ice Cream mural for a photo and Instagramable moment by local illustrator and artist Julie Kukreja. A special thanks to our Art Mural Patron Partners Dr. Brittany Sebby of The Functional Wellness Clinic and Sustainable Staffing Inc.  #icecreamfest #peaceloveicecream
Ice Cream Eatin' Contest – Ice Cream Eating Contest at the Music Pavilion sponsored by Exemplar Financial Network Think you have what it takes to be the ultimate ice cream eater? Join our ice cream eating contest at the Music Pavilion and put your skills to the test! The winner will receive a special prize and bragging rights for the rest of the festival and a one-of-a-kind trophy. Register online prior to ice cream fest to secure your spot. Pre-registration may include a Cool commemorative shirt!
Enchanted Dance – Special Dance by Engage Dance Academy. These talented dancers will be sure to leave you in awe and inspire you to dance the night away!
Grove to the Grateful Dead – As the sunsets over main beach we'll have live music with Paul's Dead under the pavilion. Grab another treat and dance the night away to the summer tunes!
There you have it! With so many fun activities and events happening throughout the day, Ice Cream Fest is the perfect way to spend a summer afternoon. See you there!
Get exclusive info about the festival
Get the latest updates and news.
We promise we will not spam you!